Educational Traffic Signs, Magnetic Traffic Signs, Safety Signs
$12.95
Add to Wishlist
Compare
Categories: Educational Items, Gifts for Boys, Gifts for Girls, Gifts for Her, Gifts for Him, Personalized Gifts, Gift Baskets, Special Occasions, Ready-made Signs by Empress Signs LLC., Vehicle Signs
Tags: D.O.T. Educational Signs, Educational Toys, Educational Traffic Signs, Magnetic Traffic Signs, Refrigerator Magnets, Toy Traffic Signs
Description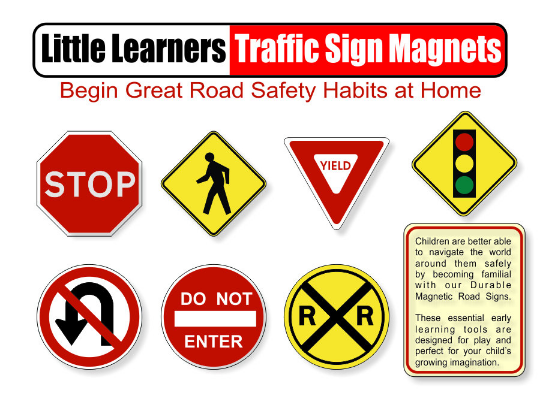 As a "sign-lady" and mom, I am always seeking well-made educational toys for my child, so these custom-made road signs developed and made by Empress Signs LLC. were a no-brainer.
Now, when my child and I travel together she knows the meaning of every sign we pass, due to our early lessons about signs, their purpose, and their meanings at home. Supply your own child with the knowledge that is an essential skill for young citizens and future motorists alike.
These are durable magnetic signs that are perfect for your refrigerator, magnetic boards and other metal surfaces. This is a great item to teach, both, real automotive/transportation scenarios & for promoting hours of imaginative play, alike.
You receive a set of seven miniature road signs designed to D.O.T. specs.
Only logged in customers who have purchased this product may leave a review.