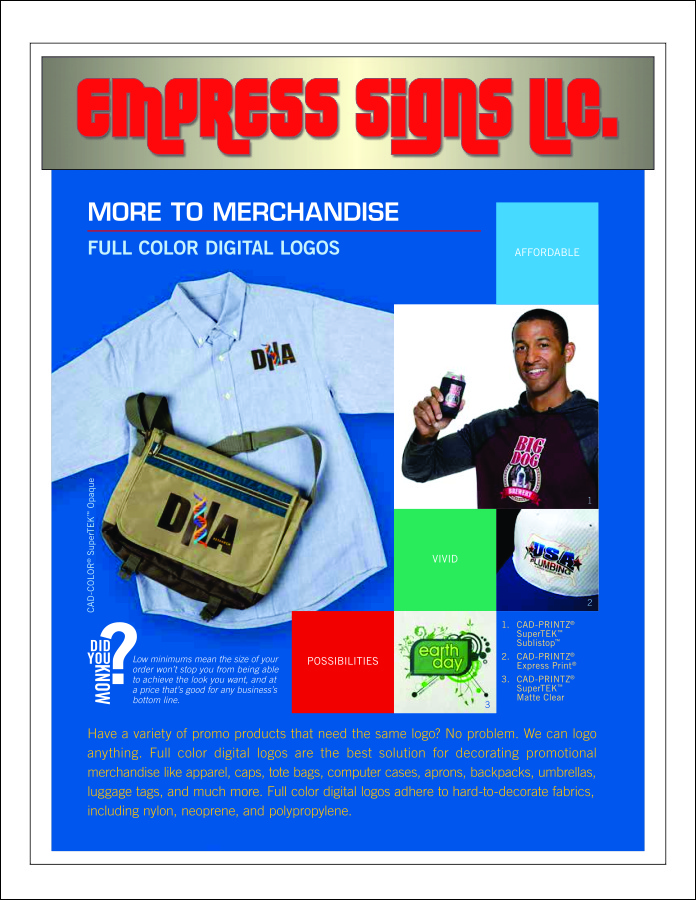 Empress Signs LLC. is Getting Personal!
Weather you're in need of Customized Tee's , Hats, Marketing Material, Signs, Print Services or More, we are a One-stop Shop for all of your Personalization and Brand Development Needs.
For our Non-Profit and B-B Customers, Empress Signs LLC. Offers Wholesale Pricing on Bulk Orders, as well as, Direct to Trade Pricing.
Mail us your Retail or Non-Profit Tax Certification upon ordering to receive bulk discounts and Tax Free Ordering.
For Custom Orders, shop our Blank Apparel, Personalized Items, or Gift Pages to find just the Right Product, Brand, Gift, Color or Size to fit your needs.  You may also Upload your own output Ready Art or let Empress Signs LLC. supply you with Pro Designs and Customized Themes On-Site.
Most Custom  orders are fulfilled within 24 hours or less! Set-up fees may apply.